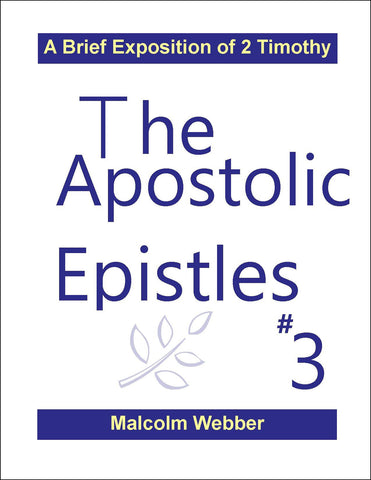 The Apostolic Epistles #3: A Brief Exposition of 2 Timothy
Written from within the confines of prison walls, Paul writes a sober message with thankfulness and joy to his beloved son in the Lord, Timothy. Paul urges Timothy to remain faithful to Christ in the face of hardship and suffering. This epistle is an encouragement to modern day ministry workers not to allow the difficulties of ministry to become stumbling blocks but instead to stay focused on the calling, enabled by the power, purpose and sovereign grace of God.
As though passing the torch to Timothy, Paul reminds him of the importance of holding to sound doctrine, the necessity of exposing and refuting false teaching, using his gifts for God's glory and guarding the deposit God placed in him, for the sake of others around him who are depending on it. Paul administers a final exhortation to run the race set before him. God will always be faithful; may we also be found faithful. The foundation has been laid for Timothy and for us all – we must continue to press on toward the goal we have been called to, motivated by our eternal hope.
---
We Also Recommend
---