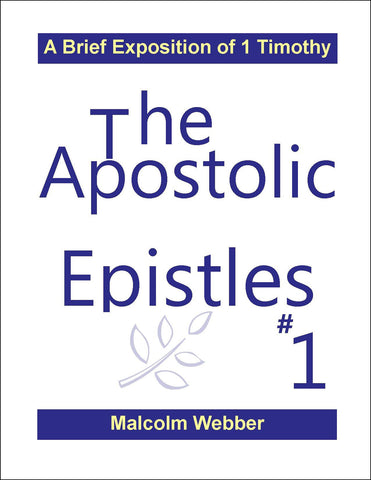 The Apostolic Epistles #1: A Brief Exposition of 1 Timothy
Paul's timeless message to Timothy to live and walk in truth and hold fast to God's Word is just as vital to the body of Christ today as it was to the church in Ephesus. With an overall purpose to restore order and spiritual health to the church in Ephesus, Paul emphatically conveys to Timothy the importance of correct doctrine in the Church, which has been entrusted with the message of the Gospel.
Dr. Webber asserts that 1 Timothy is not a church manual, but a personal letter written by Paul warning of the presence of false teachers inside and outside the church. True doctrine was very important to Paul – doctrine is not just academic, but embodies correct theology expressed in holy, fruitful living. Dr. Webber states that a lack of truth is not simply a void; it is the presence of error. The end goal of Paul's exhortation to Timothy and the church in Ephesus is restoration to God, not only theological correctness.
Laying a framework for the appropriate analysis of doctrine in the church, Paul gives instructions to Timothy regarding practical aspects of ministry – exposing false doctrine, addressing matters of the church including leadership criteria, discipline and social issues such as slaves and materialism. Paramount were Paul's instructions to Timothy to guard his walk with God. Dr. Webber concludes that the leader must not only faithfully nurture, direct and protect the church, but also pay careful attention to personal godliness. A healthy church depends on healthy leaders whose ministries and personal lives equally reflect the presence and power of God.
---
We Also Recommend
---