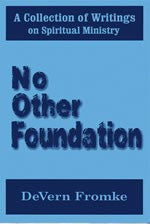 No Other Foundation
The paradigm of ministry in the body of Christ has shifted and the need for a reminder of our purpose and goals in life and ministry is met in this book. First and foremost, we minister to God, not man. Checking our motivations and self promotion, this work is like a refreshing cleansing from the Lord, establishing what and Who our true foundation is. If our foundation and calling are of God, the fruit will bear an impact reminiscent of God, not the flesh. In the end, our deeds will be shown for whether they are of human origin or of God.
Today the body of Christ is busy and has forgotten how to stand still before the Lord. Discerning true calling from the Lord is made difficult when we presume and do not wait on the Lord for His direction or when we assume that natural training is sufficient for a calling. The life hidden in Christ is not dependent upon man's ideologies, philosophies or utilizing the Bible solely as a book of principles. It is not merely facts about Him or about what He did – but a living, breathing knowledge of God, which is not the same as appropriating God as our fullness in life.
Ultimately, our greatest joy is in being the vessel which contains and delights in the glory of God. Christ alone is our sufficiency – not methodology or religion. Living our lives in Christ alone as our foundation is satisfying our life's purpose and the original intention of our Heavenly Father.
---
We Also Recommend
---