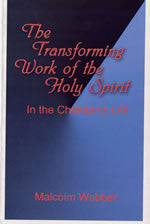 Transforming Work of the Holy Spirit in the Christian's Life (Ebook - PDF Download)
God's purposes are always holy and always good, though we might need to suffer temporarily to prove our faith genuine. Our response to testing dictates the outcome and we cannot have just one element without the other two. It is our daily time with God that gives us the correct perspective when difficulties arise. It is depending upon God that gives us the strength we need.
In this brief study, Dr. Webber reveals and helps us understand practically how to respond and walk out three types of work of the Holy Spirit for transformation in our lives – divine dependence, dramatic dealings (both positive and negative) and daily discipline. All three are essential to make us more like Him. Through the examples of Christ and Paul and multiple other biblical characters, we see our need for all three elements of the work of the Holy Spirit in our lives.
Neglecting the daily discipline with God robs us of potential growth in Christ and can lead to complacency in our walk with God, which has an eternal consequence. Being imbalanced on any of the three facets of transformation can lead to serious error and cause us to lead ineffective lives for God. These three paths of transformation are not functions of human ability and are accessible to all humans. They are all the work of God's grace in our lives, bringing us back to the simplicity of life's purpose – to know God.
*eBooks are secured and are unable to be printed. If you are interested in a printed copy, please order the paperback here.*
---
We Also Recommend
---